BoB's Food Court and Deli Department
BoB's has a large selection of our own homemade potato and pasta salads, coleslaw, veggie dishes and more. Our menu often changes so be sure to stop back and try them all! One of our most popular items is our own "Fresh Salsa" – it's the best around!
Our Dining Room and Outside Eating area is available. We have the tables spaced apart for social distance
Our "Make your own Salad Bar" and our popular "Sandwich Bar"is open. We have all of our popular selections. We also opened our Dining Room and outside dining area with proper distancing between tables. We will still have pre-made selections available to purchase and Heat and Eat entrees. We do have our Soup and Chili Bar available also. Tom (the Sandwich King) is back serving our "Hand Carved Sandwiches" on Wednesday, Thursday and Fridays.
Contact Our Deli
Call our Deli Department to speak with a specialist: Julie: (763) 528-2374 or email us at julie@bobsproduce.com
Julie has been the Deli Manager at BoB's for over 17 years and she is really good at catering. She has been in the food business for over 34 years. Julie enjoys playing with her beagle dog.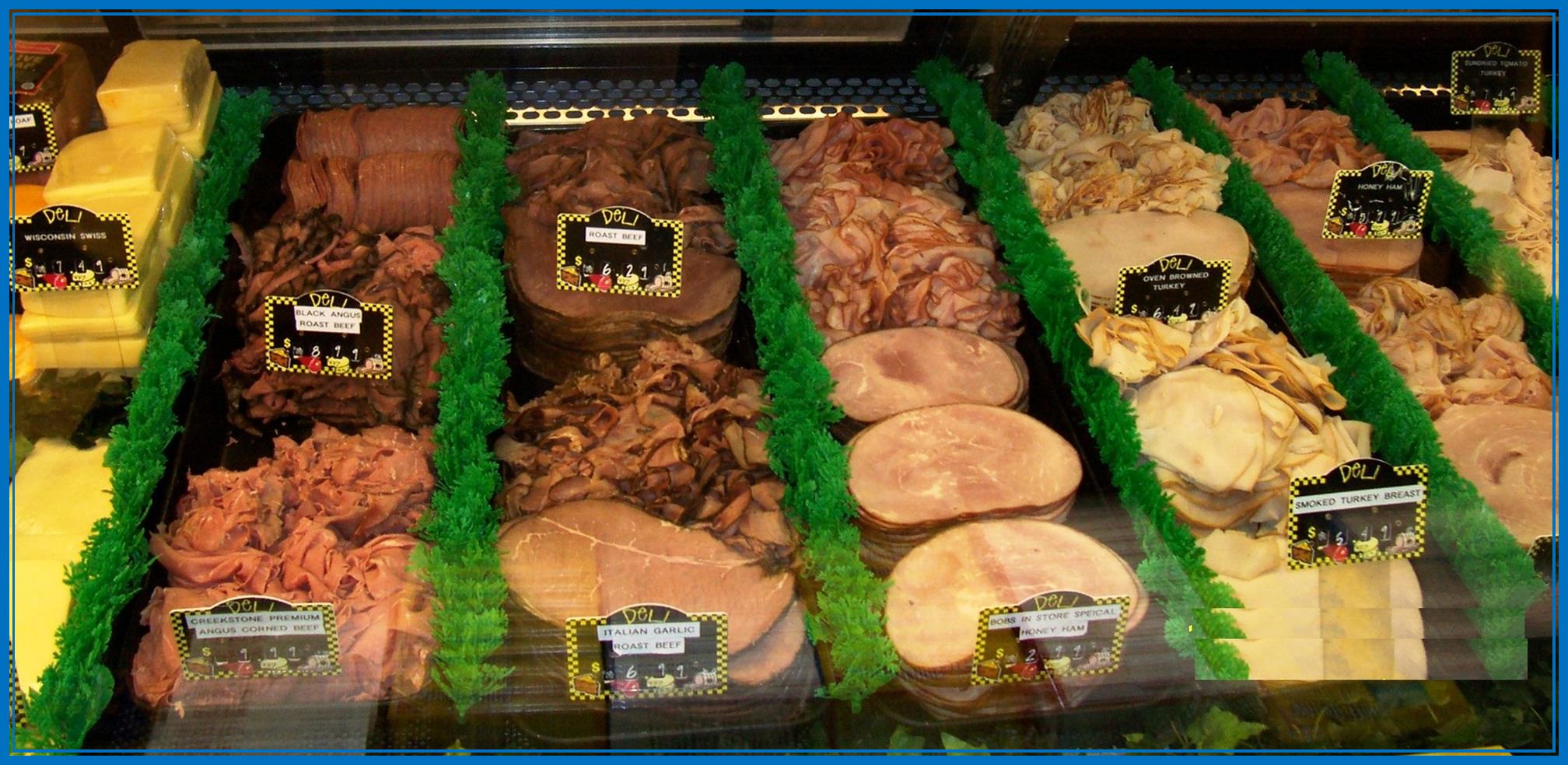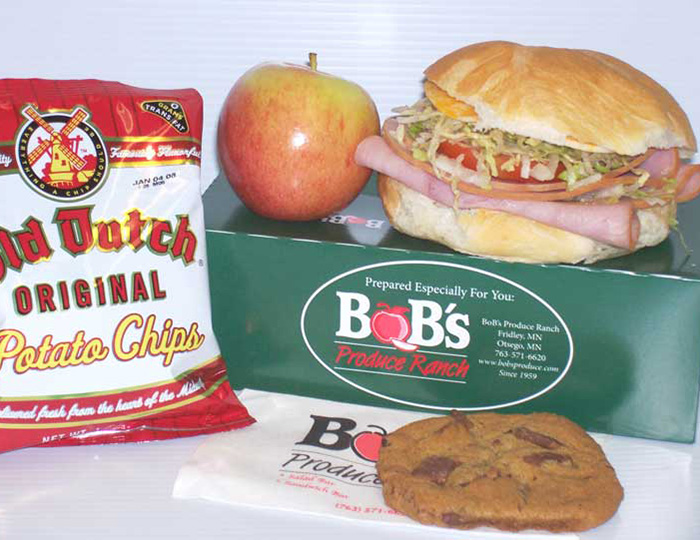 Box Lunches
Lunches and Premium Lunches are available for business meetings which can be picked-up or delivered (call for our delivery area). We offer tables and chairs for eating in or our lunches can be taken out.
Original Box Lunches feature: choice of sandwich or salad, fruit, chip and cookie. Box Lunches are also available with your choice of salad, roll with butter and fruit. Soup and beverages are also available to be added to your Box Lunch order.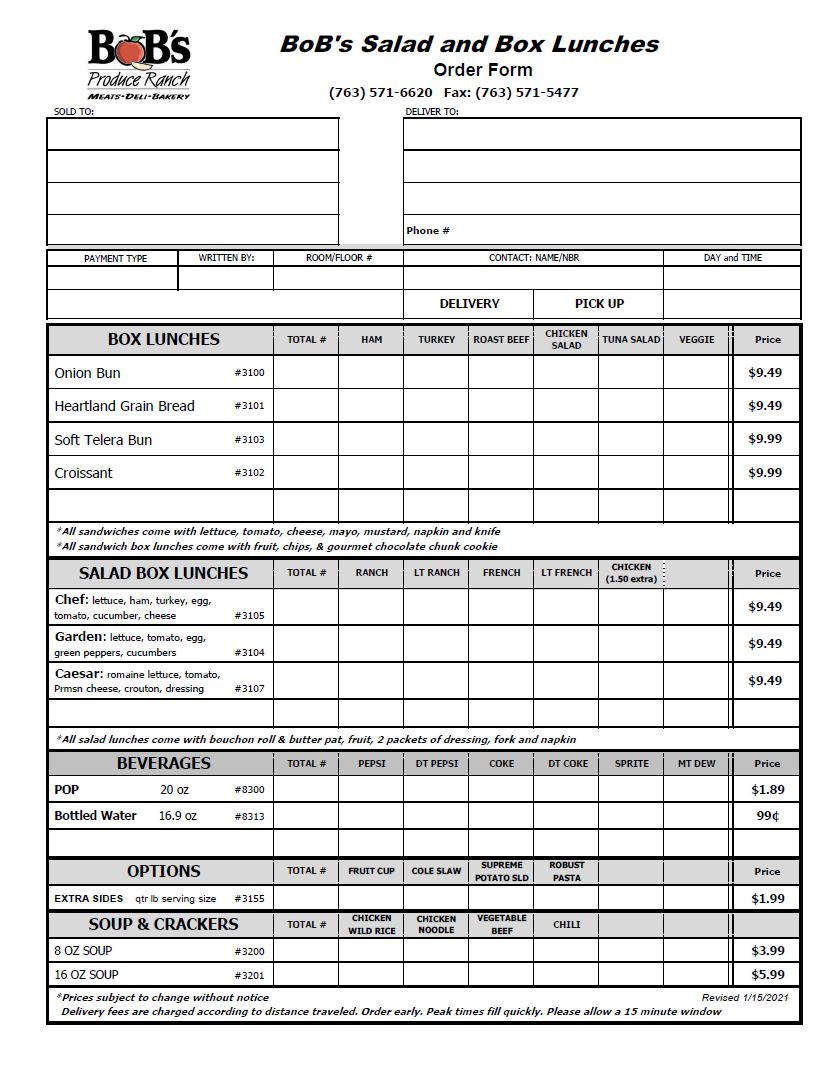 Salad and Box Lunch Order Form
Premium Lunches feature: choice of a hearty sandwich, chips, fruit, pickle and brownie. Soup and beverages are also available to be added to your Box Lunch order.
BoB's Daily Deli Specials
Monday: (limited soups are available)
Soup $1 off 8oz & 16oz
Tuesday: Sandwich Bar $1 off per pound
Wednesday:
All sizes of Coke Fountain Soda 99¢
Thursday:
$1 Chicken Corn Dogs
Friday: Salad Bar $1 off per pound
BoB's Deli Fresh Salads of the Day
Monday: (sorry, currently not available)
Spring Salad
Tuesday: (sorry, currently not available)
Chopped Salad
Wednesday: (sorry, currently not available)
Tequilaberry Salad
Thursday: (sorry, currently not available)
Taco Salad
Friday: (sorry, currently not available)
Spinach Poppyseed Salad
BoB's Deli Menu Some items might not be available because of staff shortages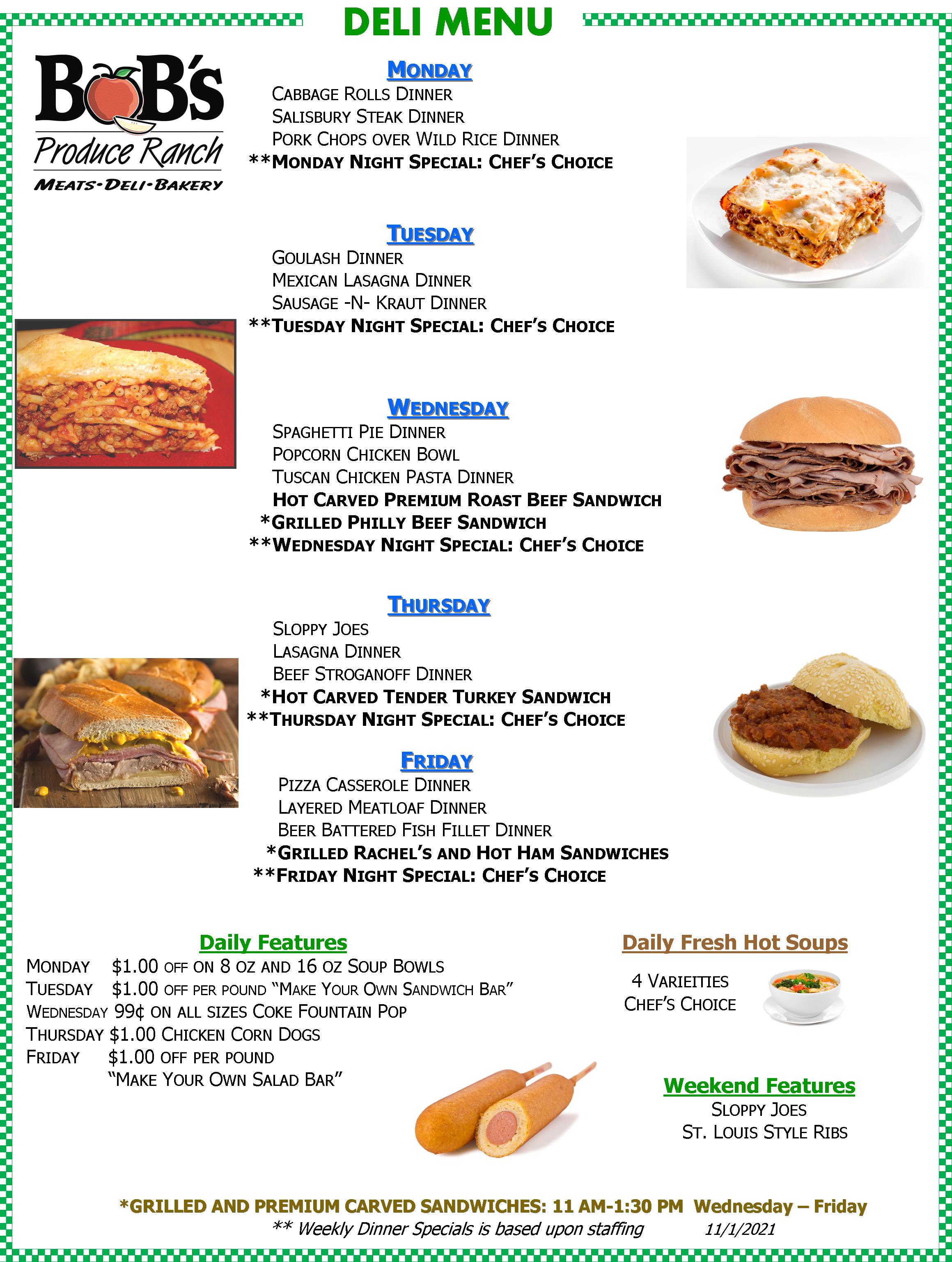 BoB's Deli Party Trays
Let us help plan your next catering event! We have a great selection of party trays available by advance order including meat & cheese trays, fresh fruit platters, fresh vegetable platters and much more! Trays come in 12", 16" or 18" options and one of our experienced deli experts would be happy to help you order the best tray or platter for your next event!